---
---
ZOMBIE
PORTRAITS
EPISODE 1
Is anyone there? The Nuvitta Municipal Network has been brought back online after 2 years of a zombie infestation. T.I.M, a Teachable Imagination Machine, seeks connection to a lone survivor in need of aid. During his rescue mission, he maps the location of zombie hordes, volatile mutations, and twisted traps of nightmares.Join us on this Oh Hey Void Coloring Story and color 50 of the most detailed zombies you've ever seen.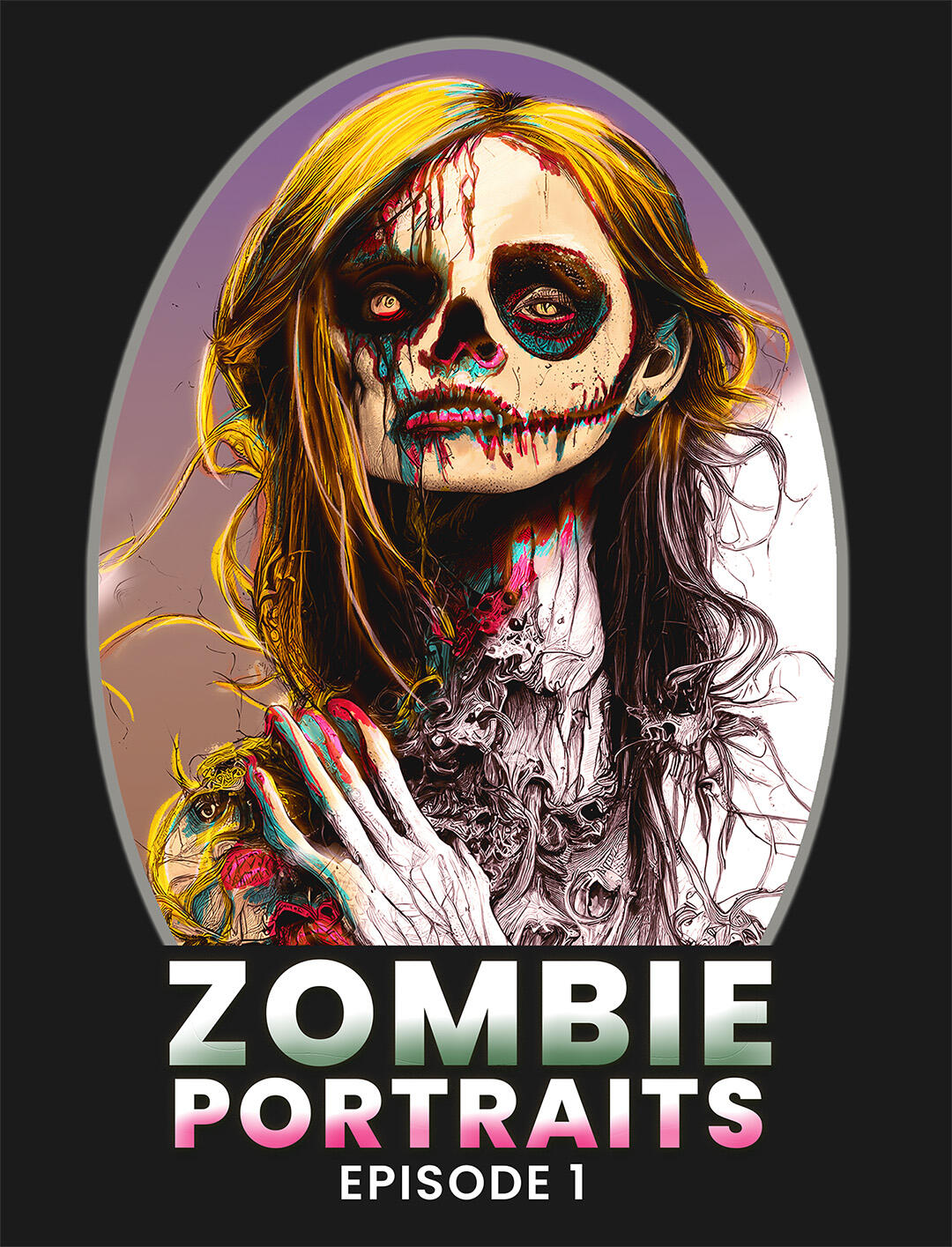 Zombies of the Future?
What would it look like if Blade Runner, Alita, or Westworld had zombies?
We imagined a world where the zombies are a little smarter, a little faster, and
all the more terrifying.
In Episode #1 we wanted to showcase a world where an autonomous android named TIM seeks to aid a mysterious survivor named Rosie.Readers will explore the messages shared between them during Tim's 12-day journey through zombie-infested burrows to provide his support.As he travels he encounters different scenarios and leaves behind survival kits and warnings for any others watching their correspondence on the public Nuvitta network.
---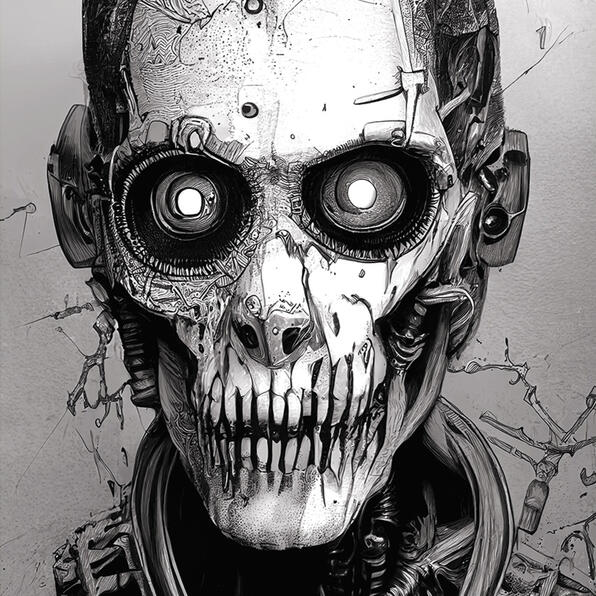 ---
Love Coloring Books?
We love print books too. There's a magic in tangible art. A risk, a joy, a rush! Plus, there's a special kind of glee we get turning a page.Great news! Zombie Portraits was designed to be experienced in print. And you're supposed to color this one too!
Affiliate Link to Amazon
Paint Digitally?
Digital Art is so much fun! The time, the accessibility, and the tools available can be an adventure on its own.Fun fact - we also provide a digital version of Zombie Portraits that can be digitally painted. Because technophiles need love too.
Link to Buy Page
---
THE COLORING BOOK
A story meant to be colored in.
---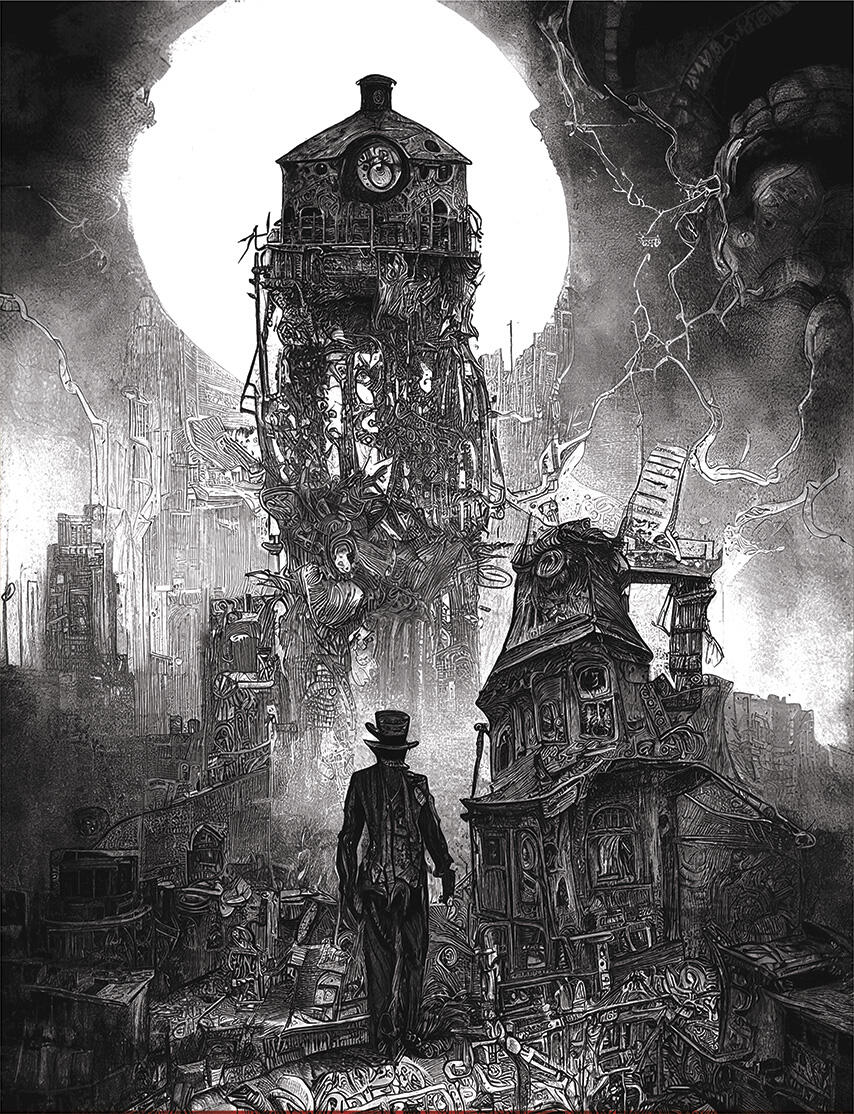 Affiliate Link to Amazon
Adult Coloring Books
Stress Release May Vary. Look, okay, this story isn't the most relaxing adventure, and the zombies might induce nightmares. But if you're a special kind of freak it might be the best pre-bedtime adventure to color.

Super White Pages. So your inking techniques will really pop!

Single Side Printing. For less bleed in this inking book.

Story pages designed to stand out. The story pages are written in an epistolary format. Designed to stand out so that you can jump right to the zombie gore.

50 Unique Images Visualized by our team and made possible using Artificial Intelligence our images elevate the adventure to something never seen before.

Make those coloring sessions fun Adults can only color so many of the same unicorns and fairies. Enjoy your time exploring a world designed for an adult imagination.

Great Gifts for the Zombie enthusiast. Also looks great on coffee tables.
---
THE DIGITAL DOWNLOAD
Practice digital painting with cool images.
---
---
Disclaimer
THE FOLLOWING MATERIAL MAY NOT BE SUITABLE FOR CHILDREN UNDER THE AGE OF 17. THIS PROJECT CONTAINS VIOLENCE, EXPLICIT LANGUAGE, AND GORE.OUR VISUALIZATION WORKFLOW INVOLVES THE USE OF 3D DESIGN, PHOTO BASHING, AND SYNTHOGRAPHY.
Copyright
Copyright © 2022 Oh Hey VoidAll rights reserved. No part of this book may be reproduced or used in any manner without the prior written permission of the copyright owner, except for the use of brief quotations in a book review.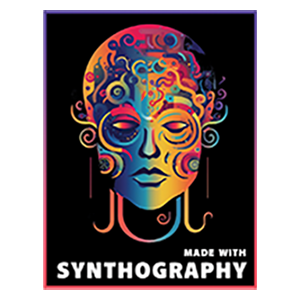 "Drawn By Davinci" was used
DURING THE SYNTHO PROCESS.
All visual depictions of individuals in this work are purely synthetic and created using computer-generated imagery techniques. No real humans were involved or used in the production of these materials. Any resemblance to actual persons, living or deceased, is purely coincidental.
---
2022 © Oh Hey Void. All rights reserved.
Oh Hey Void is a participant in the Amazon Services LLC Associates Program, an affiliate advertising
program designed to provide a way for websites to earn advertising revenues by advertising and
linking to Amazon.com. As an Amazon Associate, we earn from qualifying purchases.
---